Welcome to our home...let us introduce you to our family!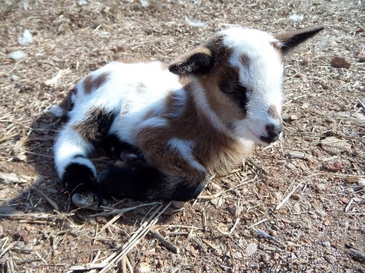 It all started with chickens which was, to say the least, a ROCKY start. We learned a great deal about 3 year olds and their ability to take out a baby rooster, our hawk population and their palate for baby roosters, and poor fencing's ability to diminish the life expectancy of roosters. Needless to say, roosters didn't do so well those first few months, but we finally established our coop and our first eggs arrived!!
From chickens, we got increasingly more courageous and moved into rabbits (and four legs). The rabbits - New Zealand and Californian mix - came home very little and got VERY BIG very quick! Some of them got names...some of them (destined for futures other than as pets) did not. Our 6 year old began to get very important lessons about from where our food originates. We no longer have rabbits. Feel free to ask me why and I'll be happy to tell you.
In June of 2012, we brought home our first 6 Nigerian Dwarf goats and Four Legs Good Farms was "born". Our farm name is an homage to that lovely little Orwell novel "Animal Farm" and gets us all giggling when we recall the book's original "Seven Commandments". The goats keep us smiling as we delight in their playful antics. Each day our animals teach us something we didn't know the day before. They also keep us on our toes and up on some nights with worry.
Whatever goes upon four legs, or has wings, is a friend.
It is through this process of becoming a farm, we have established our mission of keeping true to the care and upkeep of our animals. Our Nigerian Dwarfs are purebred, registered ADGA, healthy, spirited creatures. We breed them with care and deliberation so to as assure their lineage and to uphold the Nigerian Dwarf and ADGA registry standards. We will avail our animals to breed with others who are like minded through sound and bio-secure business practices. We are LGBTQ and pagan allies. The only discrimination we will practice here at FLG Farms is in opposition to anything that represents animal or human cruelty.
WE DO NOT SELL SINGLE GOATS TO PEOPLE WHO DON'T ALREADY HAVE AN ESTABLISHED GOAT HERD.
This is a recipe for misery as goats are herd animals. The internet is abound with adorable "pet" goats...get a dog or a cat. period. Goats want to be on pasture, they want to graze, they like to climb, they like to run - they will wreck a nice house. Also - bottle babies, while cute, are WORK. Babies have to be fed every 3-4 hours. Whoever told anyone that only bottle babies are nice goats has not visited our farm. Goats like you if you feed them, pay attention to them, and occasionally spoil them rotten. And lastly, our sales prices reflect seven years of dedication, an immense amount of hay, feed and minerals purchased, paying our veterinarian the equivalent of the value of their home in service fees, blood, sweat, and a lot of tears. Our goats are priced fairly according the ADGA market pricing for equivalent animals. We carefully consider our breedings (unless the bucks decide to break down fencing) and work to enhance strong goat attributes of milk production, udder attachment, healthy feet, good disposition, polled, sometimes blue eyed, HEALTHY goats. Yes, occasionally, we get fun colors as well. If you purchase from us, we are going to ask you a whole lot of questions before we agree to sell to you because we want to know our goats are going to homes where they will be cared for and tended to properly. We will refuse sales to anyone who does not have (1) adequate fencing established, (2) adequate shelter/security to keep goats out of elements and safe from p
redators
, (3) adequate amount of pasture and (4) a good source for mixed orchard/timothy hay.
First time goat buyers, we are THRILLED to help you learn the ropes and are more than happy to offer a basic animal husbandry introduction course that includes hoof trimming instruction, basic healthcare, and general goat husbandry information. Just let us know you want to come visit - course is informal and takes about an hour and half. Call or email to schedule.
We will continue to post pictures of our animals so as to offer doe and sire references, as well as to announce the arrival of our new babies we will have available to good homes! We welcome curious questions from those interested in learning! Please be sure to check out our breeding pages and our animals for sale pages for more information.
If you have any questions, or interest in partnering with us for future breeding, purchase of goats, purchase of our handmade soaps, or eggs from our chickens - please feel free to contact us at (828) 320-5238 or email us at:
info@flgfarms.com
. Our farm is located in Taylorsville, North Carolina - just North of Hickory. We are not open to the public but can schedule private tours of the farm upon request to interested buyers. As much as we appreciate people who want to simply snuggle goats, for security and herd health reasons, that is not something we permit. We keep our address secure so that our animals will be. Thank you.
---