FLG FARMS HERD SIRES & SENIOR BUCKS (over a year old)

SGM FR Indigo DOB: 3/6/2009
Indy was one of the first of 6 goats we purchased and we just love him. He's just a solid buck and knows exactly how to get the job done. He's the sire to many of our herd including:
Recorded Offspring:
The Ginger Spice and Nice
,
The Hershey's Carmel Delight
,
The Hershey's Witty Buckshot
,
The Carmel's Trigger Happy
,
FLG Farm La Luna Creciente
,
FLG Farm Mister Capone
,
FLG Farm Sir Mortimer
,
FLG Farm Oakmoon's Gaia
,
FLG Farm Thistle
,
FLG Farm Tulula's Tiger Lily
,
FLG Farm Oakmoon's Guthrie
,
FLG Farm BQI Valley Girl
,
FLG Farm BQI Rainbow Vista
,
FLG Farm IB Bronwen
He's got solid genetics, he's super wrinkly (dairy) and has a lovely temperament. Here's his lineage.
Sire: SGM S Faith's Revelation #D1449750
Dam: AGS Caesar's Villa FL Fuchsia #D1354050
Sire's Sire: AGS Caesar's Villa P Stedman #D1408983
Sire's Dam: AGS Caesar's Villa P Faith #D1449747
Dam's Sire: AGS Caesar's Villa PL Golden Flame #D-13644
Dam's Dam: AGS Caesar's Villa PN Flower Girl #D-13646
He is ADGA Registered:
D1493084
Indigo will likely live at FLG Farms until his last days. He is just too sweet to give up and his babies are solid!
FLG FARM TR Troubadour DOB: 7/30/2015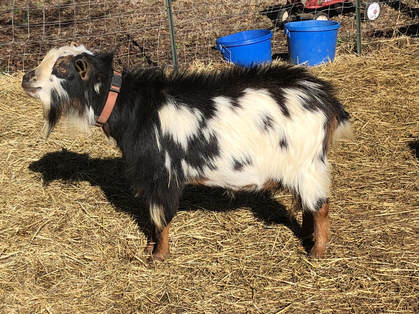 Troubadour looks like a panda goat with his funky flashy coloring. He's a polled buck and love child of the famous due Tudor Rose and Purple Haze. We had sold him as a herd sire to another farm but after a year doing his job, we got a chance to get him back. He was very busy this past year and we are pleased with the conformation of his daughters and sons.

Dam: Dragonfly TR Tudor Rose
Sire: Hinote GW Purple Haze
Sire's Sire: Chenango-Hills IPG Gwaine *B
Sire's Dam: AGS Kush Hara Morganite 1*M
Dam's Sire: GCH AGS Flat Rocks Tuan +B
Dam's Dam: Dragonfly HFX Demeter
one of triplets (all bucklings)
Polled

​ADGA Registration: D1746078P
---
FLG Farms RQ Quigley Down Under DOB: 6/6/2015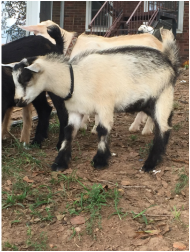 This polled cutie got his mom's unique "eye makeup". We look forward to see him grow up. He's a curious sweet buck who had his first kids in 2017. He is absolutely stunning and put together beautifully.
Dam:
Doublegate SS Beauty Queen
Sire:
Past Ur Time Rhapsody in Blue
DD: Gotta B Kid N Z Black Beauty
DS: NC PromisedLand SS Deviant, *B
SS: Fields of Grace Mr. Fields
SD: Caprine Acres Caprine

ADGA Registration: D1763509P
---
FLG Farms RH Sinatra DOB: 6/3/2015
Something about those baby blue eyes! Its obvious that this little boy takes after Rhapsody in Blue!

Dam:

BooneDocksWilcox Honeybun

Sire:

Past Ur Time Rhapsody in Blue

DD: ON Firestone Creek Up Holly

DS: Asylum Hill SS Tiger Tank

SS: Fields of Grace Mr. Fields

SD: Caprine Acres Caprine

​Sinatra is not currently for sale.


---
FLG FARM DOOLITTLE DOB: 5/5/2016
This little black and white flashy buck has all the right stuff! He is polled, blue eyed and just as sweet as both his dam and sire! He is one of two bucks born to "DD" - both bucks were polled with blue eyes. Dam has a lovely first udder, typical of the Woodbridge Farm genetics. He was bred this year to Woodbridge Farm Mon Cher Collette, from which a stunning blue eyed and polled doeling (Miss Hedy Lamar) was born.

Dam: Woodbridge Farm Dips n DotsSire: PastUrTime Rhapsody in BlueDD: Wood Bridge Too Escalade 86 VVVVVDS: Wood Bridge Farm Apache Wind ANDDA All American 2 year old buckSSS: *B CH Rosasharn UMT Pippin 86 VVESSD: CH Bombahook Acres HSRD Demi Plie` 91 VEEEDDS: NC PROMISEDLAND PALBO ABEDNEGODDD: WOOD BRIDGE FARM X E LEXEY

ADGA #: D1801798

​P

---
FLG Farm BQ Bandit DOB: 8/16/2016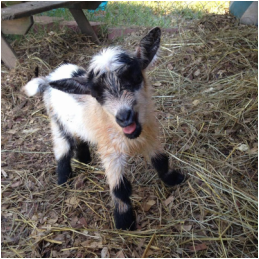 What is not to love about a cou clair buckling! This little guy is so cute and polled as well. Definitely a keeper!
With Wood Bridge Farm genetics on his dam's side plus Caesar's Villa and Sweet Gum Minis on his sire's side, we have great things to look forward to from this beautiful, sweet boy!
​
Dam: FLG Farm Bellatryx
Sire: FLG Farm RQ Quigley Down Under
DD: Wood Bridge Farm Bonnet
SS: FLG Farm Sir Mortimer
SD: Oakmoon Darcy's Hershey Kiss
SS: SGM FR Indigo
DDD: Wood Bridge Too Escalade 86 VVVVV
DDS: Wood Bridge Farm Apache Wind
ANDDA All American 2 year old buck
DDDS: NC PROMISEDLAND PALBO ABEDNEGO
DDDD: WOOD BRIDGE FARM X E LEXEY
ADGA Registration#: D1817373P
​
---