WELCOME TO OUR STORE!!!
We can't, by law, make any claims that our soap or lotions or lip balms are going to cure what ails you...but what we can tell you is that you will LOVE using it. We began making our body products for our own skin sensitivities. We found that not having the detergent, typically found in most of the commercially produced body products, really made a difference in the balance and condition of our skin. We hope you enjoy our products as much as we do. Please keep checking back often as our soaps and lotions change with the seasons. We will consistently offer our best sellers but we will change it up as often as we can! WE TAKE SPECIAL REQUESTS!!!! I have tried to make note of any products that may aggravate particular allergies.
ALL OF OUR PRODUCTS ARE MADE HERE AT THE FARM. We purchase our carrier oils from reputable, eco-friendly suppliers. We will not make a claim of our products being "organic" because, well honestly, we are finding that the label "organic" doesn't seem to mean much more than who has the money to get the stamp. We will claim that our soaps and lotions are NATURAL. Most of our soaps do not contain synthetic chemical fragrances (and if they do, we tell you). The majority of our fragrances are derived from essential oils.
We accept Paypal!!! We ship USPS flat rate on anything over 1 pound and 1st class with tracking on anything under 1 pound.
​
Have questions? Send me an email at:
info@flgfarms.com
or call me at (828) 320-5238. Happy soap shopping!
And yes - we make and ship CUSTOM GIFT BASKETS! WEDDING FAVORS! You name it...we can probably make it happen.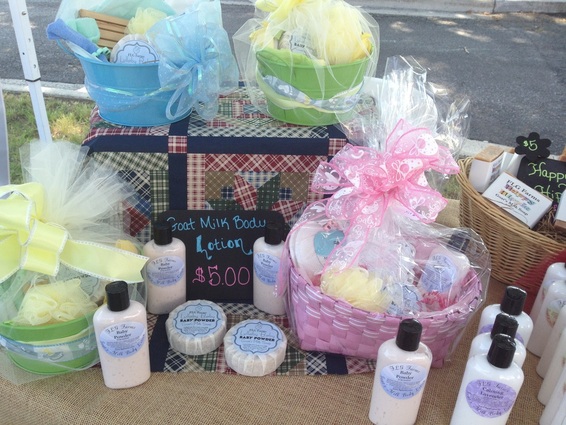 Our Gift Baskets can be custom made from $15.00 to whatever you wish to spend! Call or email to get yours started. We SHIP!

Please let us know if you have any special requests!
We take requests and will make custom soaps (5 bar minimum)! Need wedding favors - I can help! Fundraisers - yep, I can help with those as well! We are always willing to discuss wholesale pricing to business owners with a legal sales license.
Email me at leeann@flgfarms.com