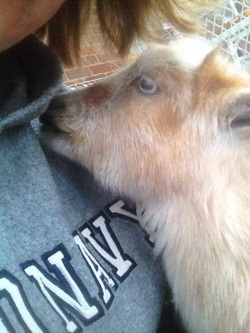 As much as we tried - Polly did not recover. Throughout the week, her back legs continued to fail her. She could not keep her balance, and by Thursday night (12/19/13) she was unable to eliminate. On Friday morning, she had no gut sounds and appeared terribly bloated. We knew she had had enough and that our efforts to save her were only becoming selfish at that point. The vet agreed that she should have responded to all of our various efforts and this was, simply put, the right choice to make. Polly made the trip to Elkin, NC for a necropsy shortly after she was put down. We NEEDED to know what we had fought against, and lost.


Polly died on our daughter's 8th birthday. It's amazing how hard it is to mourn such a loss and celebrate such a wonderful event at the same time. Just as we sat down for her special birthday dinner, I got a call from Dr. Barlow at the lab. I never thought you could really get "good news" from the person who just performed a necropsy on one of your favorite goats...but it seems you can. In his professional opinion, Dr. Barlow had ruled out any contagious disease that may be a risk to the rest of our herd. He said that upon investigation, our 8 month old doeling was filled with tumors - in her liver, lungs, and abdomen. Strangely enough - this looks like it was cancer.


We await the full necropsy report, which of course will be delayed because of the holidays. We will post them here when they arrive. We believe in full disclosure - if for any other reason, may it be for the person who is scrambling around googling terms like "back leg paralysis in goats" or "goat cancer" or even "meningeal worm". Dr. Barlow told us that we were right to suspect Meningeal Worm - that the symptoms would have been exactly the same BUT that Polly should have responded to the worming treatments and the dexamethasone (steroids). He mentioned that in the past year he has only had ONE confirmed case of P. Tenuis (Meningeal Worm) and that it is QUITE rare as a reason for goat deaths. He also said we were right to rule out listeriosis and that he was confident Polly succumbed to these tumors.


We will always have a place in our hearts for Polly and we still find ourselves mourning her loss. She was such a bright spot in the herd - with her big blue eyes and her funny and distinctive voice. I go out and just sit in the middle of my other babies, hugging, petting and loving on anyone who will let me. I guess we heal through the living, right?


Going forward...(back to cute little babies, soaps, and hopefully MUCH happier future posts).