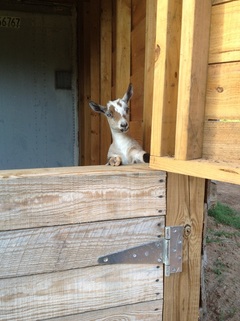 May I help you???
This truly has been the theme over the summer with the incredible response to our FLG Farms soaps. WHAT A THRILL to be able to create a product we love and THEN find out that others love the soaps as much as we do. This summer has been kinda crazy working out the details and goals for the future of our soaping business but we sure don't mind and we love that our soaps have now been shipped to Minnesota, Arkansas, Illinois, Florida, and Michigan! Our store here on the website is now up and running and our soaps are ready to be sent anywhere in the US! We are also SO PLEASED to be in partnership with
THE GREEN SHEEP SHOP in Hickory, North Carolina
! What a great eco-friendly store with amazing natural parenting supplies AND Blue Ridge Woodworkings beautifully made pieces. Go check them out!
We are also now in partnership with
THREE FORKS CAKES
who uses our free-range chickens' eggs in their AMAZING cakes. All in all, the summer has brought us many things for which we are grateful.
On another note - the goats are doing great. We've had a lot of changes in our herd over the summer. Having had a SEVERELY buck heavy kid year this year - we had to move some out. Goodbye to Diego, Capone, Buckshot, Stratus and Cirrus. Mortimer will go to Avynat Farms in December and in his place, we welcomed in
Chocolate Kiss
who reminds me of a dalmation and is just as sweet as a little puppy. We also acquired some new doelings from
Pinnacle Hills Goat Farm
(Mary Colman and her husband are the NICEST people) and got to see how another wondeful soap maker works her craft while we were there!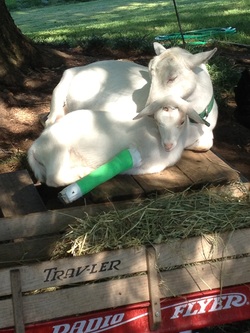 Yes...we've had some downers this summer as well. Dacia broke her leg - I mean REALLY broke her leg. All the bones in the lower part of her right leg were shattered. What a lesson we have learned about Houdini goats who slip under fences, climb up on barbecue grills and then get their foot caught in the BBQ's lid handle on her way down. Who would have ever guessed...but all is well. 3 weeks in her cast and a follow up xray reveals that her bones have healed.
The rain has been NONSTOP. Goat maintenance has been constant and at times, a bit exhausting. The pastures haven't been dry for more than a day and it is one big squishy mudpit. At the same time, our barn has been on the final days of construction so we have had no choice but to leave the goats in the current wet soggy swamp of a pasture. Feet trimming and koppertox treatments for unhappy hoofs has been a constant around here. We are thrilled that our garden did so well...but what makes you happy makes you sad I suppose! Happy for the produce, sad for goat feet. I think we will make it out of summer intact and WAY SMARTER than we were prior!
My goal for the fall is to continue to pump out creative soaps for the upcoming season and to write a blog MORE than once every 4 months! Thanks for reading and please be sure to
LIKE US on FACEBOOK!