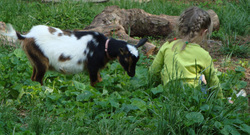 What a few weeks we have had!

As you can tell, the website has a new look. We needed to "spring" things up a bit! So, here's a brief recap (ha! Like I'm capable of being brief) of the last few weeks:
1) Both Danica AND Carmel finally delievered the "goods". We have FIVE baby goats kicking, squealing, and bolting around the backyard. FOUR BOYS and ONE GIRL. Danica had triplets, Carmel had twins. They are now on the our Nigerian Dwarf Herd page and our facebook page is filled to the brim with baby pictures. They are FUN, the are HEALTHY, and the mom's are doing a great job.
2) We are a foster home! Eggbert and Tooters joined us temporarily from Five Points Farm North. We are happy to have them and as you can tell be the picture above, Tooter has found a friend in Audrey!
3) In approximately 6 weeks, we have had 35 baby New Zealand/California babies born. Actually, we had quite a bit more than that born but as I've mentioned before - baby rabbits and bad moms do not mix. We are weaning them and hope to have them posted for sale very shortly.
4) Our soap business has taken off! 56 bars of soap sold in one week with customers coming back wanting more! So, we've worked to make it happen and there is now a new link on our website called the FLG Farm Store. Here's where soap can be purchased, by the bar or in multiples for a discount. I can make local deliveries and also ship! Direct link is:
http://flgfarms.com/flg-farm-store.html
We are going to keep a few of our basic but awesome recipes throughout the year (Nurture Your Nuzzler Facial Soap, Oats, Milk & Honey Emollient soap, Simplicity soap, and the Café Latte Soap will remain on the menu. Seasonal soaps will be added! We currently have (FOR SALE ON THE SITE yeahhhhhhh!!!) our Cocoa Mint Kiss Goat's Milk Soap. On the curing rack are mint soap, choco-nilla soap, an improved version of our CocoBanaNut soap, our bug-b-gone dog soap (shaped in dog bones and paw prints but humans can use fido's soap too!), and yes, Nurture your Nuzzler will be ready in about a week's time! This weekend: Lemon Poppyseed Loaf soap and Lavender Rain soap!
5) We have a new farm logo that will be making an appearance on our farm store and when we go to shows. Obviously, this website has a bit of a "feminine" nature to it, so to balance out the anima with the animus, our logo is bold and quite simple!
So, a busy few weeks we have had!!!