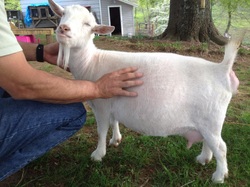 Danica, our sweet Nigerian Dwarf, is due to kid anyday now. She is HUGE. Her last two kiddings were both sets of twins. We would be rather surprised if there are only two in there this time. She eats, she waddles, and grows bigger...and bigger. We hope to be posting pictures of healthy, happy, bounding baby kids very soon!
Meanwhile, back in the workshop - soaps are being made all the time! Hershey, our one girl "in milk" right now is definitely slowing down on production but we still have plenty of milk frozen awaiting the soaping! This past week we revealed our "soap menu" and the soaps have been flying out the door! Our "Nourish Your Nuzzle" soap is GONE. The Vanilla Café Latte Soap is one shy of being gone and we have 3 more bars of the emollient soap. What a great start! I hope to try and get this site of ours to let me sell through the site so you reading this blog can get some! I can take phone orders, payment through paypal, and I am happy to ship to anywhere in the United States. Send me an email at
info@flgfarms.com
and I will get you into our soap!!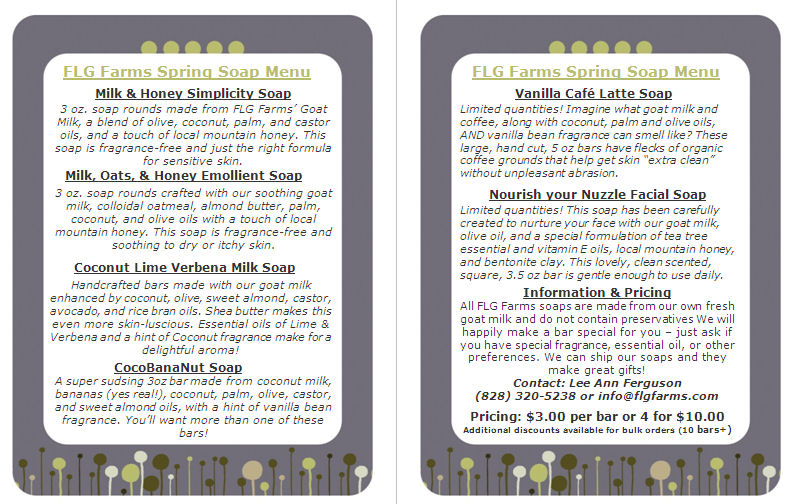 We haven't been short on babies around here at FLG Farms. Since 3/9/13 we have added 35 new rabbit babies! Our first babies are now 6 weeks old and we will start to wean and find homes for them soon. Watch our "for sale" page if you are in the market for some cute and quality Californian bunnies!